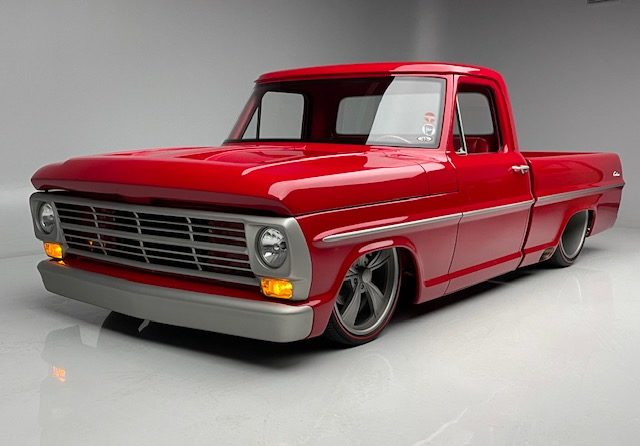 '71 Ford F100 – El Diablo
Fred Bishop's tale of this gorgeous 1971 Ford F-100 build (now affectionately known as El Diablo) begins seven years back or so. Fred's Uncle Dave gave him a rough "fishing truck" that had been sitting for many years. Dave had purchased the truck brand new off the lot in '71, so he didn't just want to see it rot out in his field. Knowing that Fred would bring her back to life properly, the plans began like many of ours do. A modest restore and driver refresh was all that was on the table for this ol' Bump, in the beginning.
Fred dug out the truck from where she sat rotting away and got it over to his buddy's shop, Big Willie's Garage, for some simple drivability updates. The original plan began with some budget-minded Crown Vic suspension and drivetrain modifications just to see it back on the road again in a timely manner. Well, as it usually goes, about halfway through this round of updates, Fred visited Willie Davis and the two got to talking, brainstorming and the snowball effect may or may not have turned into a massive avalanche (you can be the judge of that by looking at all these killer shots!).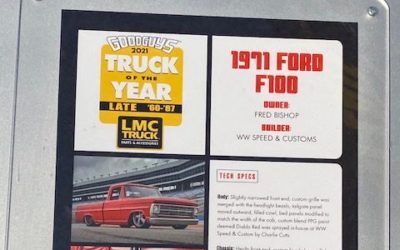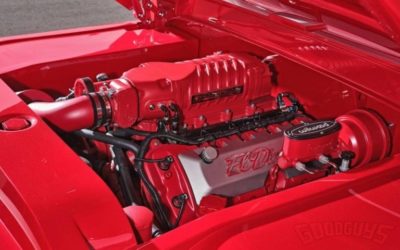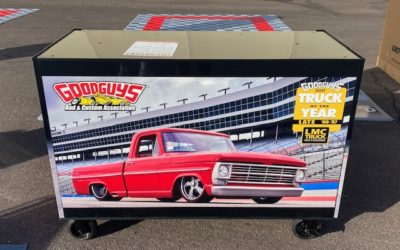 One thing led to another, and Fred and Willie's vision for this F-100 "El Diablo" came into focus.
After a few bumps and bruises that go along with a full custom build process from the ground up, the two came together with a ton of determination and perseverance (and of course another three years and countless amounts of hours and dollars later) to create something special. Big Willie and Fred re-imagined a laid out, Coyote-powered supercharged beast of a hot rod with a class and elegance unmatched. Willie had a huge impact on the renewed vision and put in many late nights designing and building an air-ride chassis, subtle but smoothed body, and drivetrain that would meet Fred's ultimate goals and make this the baddest Bump the world has seen. "Dipped in Red" was sort of the on-going theme as the build progressed, where literally everything was red (with some silver accents throughout).
One of the most unique aspects of this F-100 build is probably the fully functional one-piece front end.
Willie built in the fenders, inner fenders, core support and custom heat extractors to allow a wickedly clean look on the outside, but also functions and can be removed as one piece if there is ever major engine or trans work needed. With as much meticulous detail as the chassis and body had received over the span of the few year's build time, the paint had to truly land that knockout punch.
So, the crew teamed up with Charlie Cutts who finished smoothing everything out and mixed the custom PPG color "Diablo Red" to really bring this entire F-100 build to life. Literally everything from top to bottom is covered. Moving on, the final piece of the puzzle bringing the entire package together is none other than entrusting Tracy Weaver and his crew at Recovery Room Interiors to do what they do best.
Recovery Room designed a completely custom interior and stereo treatment from the ground up for this Bump. Absolutely jaw-dropping work all wrapped in color-matched Italian leather bringing Fred's dream of making his Uncle Dave's "Fishing Truck" truly a force to be reckoned with full circle. A build of this caliber is quite a feat and would not be possible without dedication and talents from many. From Fred and his family: "We would like to thank Warren Walcher, Kole Kochevar, Joe Nieman, Mike Blackwelder, Tracy Weaver, Charlie Cutts, Michelle Bishop, Uncle Dave, Amy Davis, Willie Davis, and everyone else who helped overcome any challenges that stood in the way and helping to see this one through to the end. We're sure glad you did!"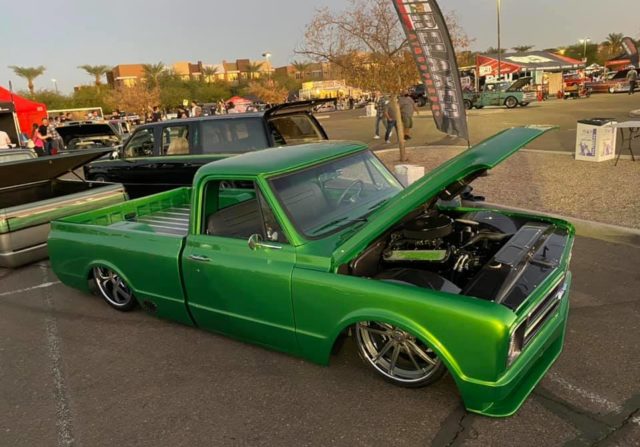 '67 Chevy C10 – The GRINCH
Christmas may be over but "The Grinch" is here to stay. Warren Walcher's '67 Chevy C10 pickup earned its name not only from of the bright green House of Kolor "Lime Time" paint that adorns the sheet metal, but also from the ornery 468c.i. big block Chevy power that rumbles under the hood.
The Grinch was built by Willie Davis and his crew at WW Speed & Customs in Grand Junction, Colorado, who were tasked with the tall order of crafting a head-turning C10 that won't get lost in a sea of custom trucks. The mission was accomplished by working metal and finding the right places to add subtle custom touches.
The truck was originally purchased in 2018 at a Barrett-Jackson auction as a mild restomod build. Wanting something more eye-catching, The Grinch is now transformed courtesy of a complete Porterbuilt air ride frame equipped with CPP steering, Wilwood 14-inch brakes front and rear, and 22×8.5- and 22×12-inch US Mags Bastille wheels wrapped with 255/30 and 285/35 Ironman tires.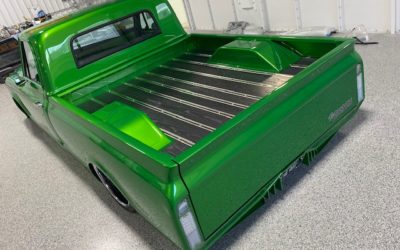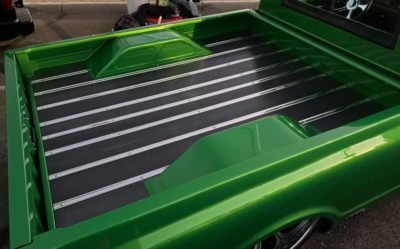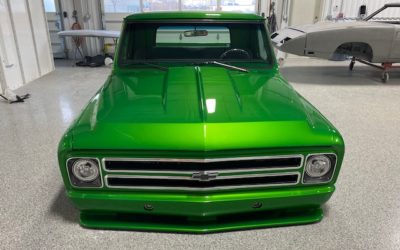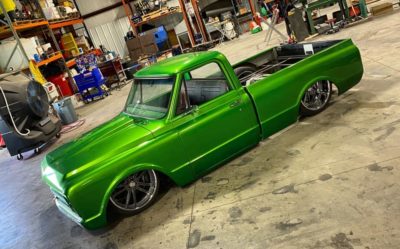 A long list of subtle-yet-significant modifications are what really sets The Grinch apart from the crowd. Without getting too carried away, the WW Speed & Customs crew fabricated a front splitter, a rear diffusor in the bumper, a small spoiler to the top of the tailgate (as well as raising the bed floor), built custom rear wheel wells, and added custom sheet metal engine compartment panels. Credit for the flawless bodywork, straight and even gaps, and laying down the slick House of Kolor "Lime Time" paint goes to WW Speed & Custom's in-house painter, Joe Nieman.
Another head-turning aspect of Warren's truck is the lack of the all-too-common LS engine. Instead, rumbling under the hood is 468c.i. big block Chevrolet topped with a Holley Sniper EFI unit, ignited by an MSD ignition system, and featuring custom valve covers by WW Speed & Customs with "The Grinch" lettering creatively added to the tops. The combination is good for 500 horsepower and breathes though Patriot stainless headers and a dual MagnaFlow exhaust system that exits the bedsides in front of the rear wheels. A Champion radiator and a CVF Racing serpentine kit keep the engine running at peak performance.
Inside, the stock bench seat was wrapped with gray vinyl with gray square-weave carpet covering the floor. Intellitronix digital gauges are fitted in the dash, as well as A/C controls and a Kenwood stereo. A Budnik steering wheel tops the CPP column while a Lokar shifter controls the 700R4 transmission. Tying everything together is an American Autowire harness.
There's little wonder why the '67-'72 C10 trucks are extremely popular. They were great-looking trucks from the factory and make even better-looking trucks with a few modifications. It can be easy to get carried away when trying to step out of the box, but the WW Speed & Customs crew did a fantastic job with Warren's truck to find subtle ways to make big changes without altering the overall look and style of the vehicle. The result is a custom truck so cool it could make even the grinchiest enthusiast smile.
-Words and Photos by Steve Bunker